Following up on my previous adventures, I'm cooking recipes from Leaves from the Inn of the Last Home when my D&D group comes over to play.
This month I just cooked one recipe – the first one in the recipe book – Gully Dwarf Stew!
Gully Dwarf Stew calls for a lizard, because Gully Dwarves, but adds that you can substitute beef. I did, and a lot of it, because I had a whole party of adventurers to feed! The recipe itself is really simple… just toss a lot of stuff in a pot and cook it. The instructions are written in a kind of cutesy way though (again, because Gully Dwarves). As you can see from the header image, before cooking, it looks really lovely and colorful!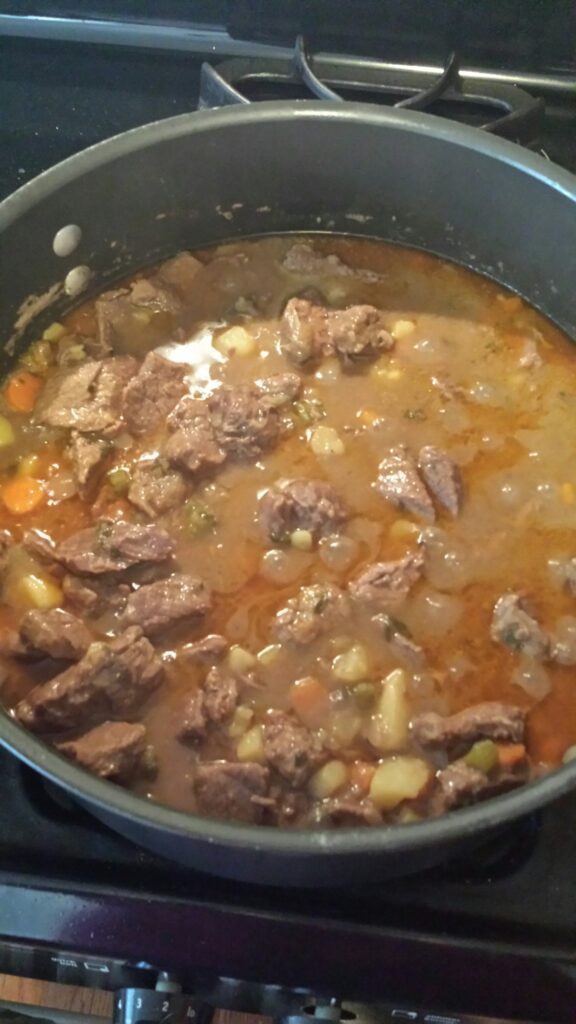 After cooking, it breaks down a lot. It was a very delicious stew and the group responded really well to it!
I made two changes to the recipe as written – I used a carton of beef stock instead of water + bullion, since that's how I roll. I also dropped one potato, because the stew seemed really full with just two in there. They do disintegrate a lot, though, so adding three as instructed might not really be a terrible idea.
Yum! We have no D&D game in October, so I'll post more later. We're also planning a nerdy Thanksgiving feast this year (to watch Mystery Science Theater 3000 Turkey Day, naturally). Looks like it's time to add a food category to my blog…